Wacky idea. Examples: "Mi padre tiene ideas de bombero jubilado como irse a correr sin camiseta en pleno invierno."
Cheap and low quality wine. Examples: "El calimocho llevaba un vinazo que te dejaba la cabeza hecha mixtos." // "El tintorro del pueblo era un vinazo que no valía ni para fregar el suelo."
Temas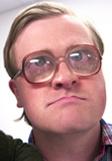 To be blind as a bat, to be very short-sighted. Examples: "No sé cómo aun le dan el carnet a mi tía. ¡Si ve menos que Pepe Leches!"
Temas
Related
I tell ya. Examples: "¿Vas a ir a la fiesta?" "Ya te digo, yo no me la pierdo." // "Esto es intolerable" "Ya te digo…".
Meaning nothing and usually said as a perfunctory answer, it's considered a bit unpolite and uneducated.