Penny-pinching, stingy. Examples: "Pepa es una agarrada que no gasta ni en comer." // "La muy agarrada no me dio ni las gracias" // "Son unos agarrados que sólo piensan en ahorrar para el entierro.".
Embrace the suck, get over it (a bad situation). It's a shortening of the phrase "A joderse y aguantarse", meaning "screw yourself and enjoy it" (that is, "embrace the suck"). Examples: "Y si no te gusta, ya sabes: Ajo y agua".
Temas
Related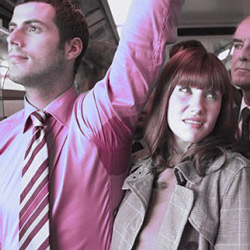 Armpit. Examples: "Te canta el alerón, chavalita." // "Depílate los alerones, Mari, que quedan cutres con tantos pelánganos".